"The Peleton , Men's Road Race"
I took this photo of the peleton less than one mile from where I work every day! I got a front row "seat" for a gold medal event that was absolutely free! It is hard to reconcile in your mind that these streets that you ride every day of your life were home to such a colorful and exciting Olympic event!
I was at Centennial Olympic Stadium and looked up and saw the Olympic Flag. Not a copy of the Olympic Flag, but the actual ceremonial flag that was carried by the dignitaries at the opening ceremonies! Below is a nice photo of that magnificent ensign. Also, Gold Medalist Robert Korveniowski of Poland triumphantly carries his country's banner after winning the longest event in track and field. The marathon? Wrong! It's the 50K walk race! A photo of the start is below. It took over 3 hours of racing for Robert to win Gold!
Also below is a baton pass in the Men's 4 x 400 relay!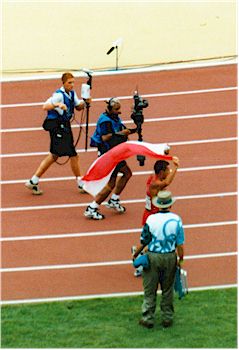 All images copyright 1996 by Richard Weisser. Please email for permission to reproduce on your website.